Restaurant Bracka 15, Kraków
__________
open daily 12am-23pm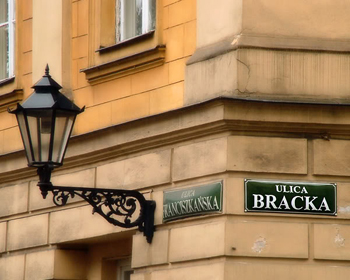 In 1237 the Order of Friars Minor was brought to Poland by decree of duke Boleslaw the Chaste. They built their church and monastery where the present day ulica Franciszkanska is located. When the city of Krakow was being founded twenty years later, a street was paved from the Friars' (Polish: Bracia) church and monastery to the Main Square, hence its name - ulica Bracka. It led to the previously existing buildings which is the reason for it being the only curved street running from the Main Square. The tenement house at ulica Bracka no. 15 (between ulica Gołębia and Franciszkańska) was built at the turn of the 16th century and was later rebuilt in the 18th century. The Neorococo façade dates back to the year 1850. See the map.
In the inner court of this tenement house were located the first headquarters of Teatr STU, established in 1966. The small room fitted 4 rows of benches providing seats for 27 viewers. Fifty years later WINOMAN winery and wine shop opened at the same location inviting both Cracovians and tourists to enjoy a flagon of wine and a delicious meal.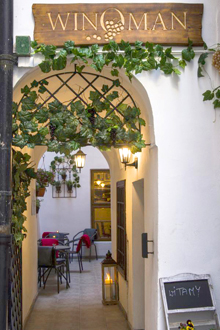 The restaurant is located in the inner courtyard where you navigate through the maze of corridors and a gate leading to a cozy and romantic summer garden. Away from the noise of the bustling city, filled with flowers, beautifully lit, the garden fits five tables where we can host about fifteen guests.
The restaurant boasts three rooms. Right through the door there is a bar section which is also the wine shop. The shelves were built using wine crates and stacked with wine bottles. Two small tables by the windows facing the summer garden in the courtyard can sit six people.
The adjacent transitional room that fits four tables can sit maximum 15 guests, and is called the Winemakers' Room. One of the walls is decorated with portraits of the winemakers whose wines are listed on the restaurant menu. Other walls are decorated with bottles of wine we serve in our restaurant and an array of picture frames. The room is equipped with an overhead projector and a screen, which allows hosting lectures and meetings that require multimedia presentation.  
Next to the Winemakers' Room is the Music Room decorated with portraits of famous musicians and pictures of musical instruments along with some mirrors framed in old window shutters. Musical instruments are also suspended from the ceiling, hovering midair. The room decoration is complete with some fragments of original sheet music. There are four tables here that can sit a total of 12-15 guests.